CONTACT
By phone
From May 15 to August 15:
+33 6 30 80 38 28
The Festival takes place in the oldest circular keep in Provence, defending since the 11th century the medieval castle of Simiane-la-Rotonde. The Romanesque room on the first floor with his high cupola and twelve arches is the only one of his kind and was built to demonstrate the power and refinement of the Agoult-Simiane family. These important patrons of Troubadour traditions were welcoming musicians and poets in their imposing reception room which is endowed with perfect acoustic conditions. Still it keeps being a quite intimate place for concerts and today is perfectly adapted for small instrumental and vocal ensembles. This is one reason why the Festival "Les Riches Heures" is mainly devoted to Medieval, Renaissance and Baroque music.
Since 40 years the Festival invites national and international ensembles issued from the most prestigious music conservatories, and promotes musicians and singers graduated from local or regional music schools, like Aix-en-Provence, Nice or Lyon.

The 41st edition 2023 of our festival will have the theme: "INFLUENCES"
Influences of a music on another, of a culture on music, of an art on music.

From August 1 to 14, we will be able to hear successively: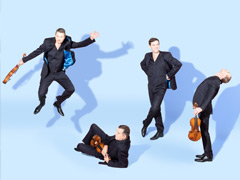 August 1st: The DEBUSSY QUARTET "REQUIEMS INTIMATE" (J. HAYDN and MOZART).
Listen to an extract on Youtube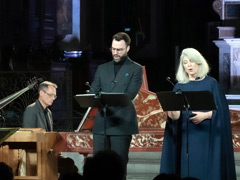 August 4: The CONCERTO SOAVE ensemble "Il CANTO NOBILE" (J. PERI, Sigismondo d'INDIA...)
Listen to an extract on Youtube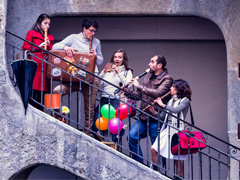 August 7: The BROUILLAMINI ensemble "FLUTES en FUGUE" (J.S. BACH, VIVALDI)
Listen to an extract on Youtube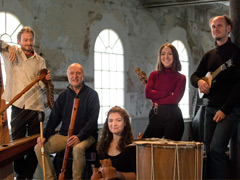 August 10: The LA CHACANA ensemble "INCAS AND CONQUISTADORES", short detours through Spain and Latin America.
Listen to an extract on Youtube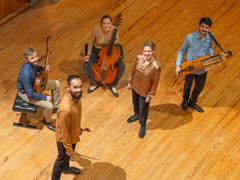 August 14: The CURIOUS BARDS ensemble "SUBLIMATION" travels to the Scandinavian shores.
Listen to an extract on Youtube

The 2023 edition will therefore make us discover different and sometimes unknown horizons, for a rich and varied experience, which we hope will attract you.
Board of directors


Useful information
Transportation
Hight speed train (TGV ) Stations in Avignon Station or Aix en provence, Public bus service to Apt, Taxi service to Simiane-la-Rotonde
Nearest Airport Marseille Marignane airport or Avignon Airport ( public bus service between airport and Apt)
Prices tickets
Concert venue : La Rotonde du château de Simiane
Seats are not numbered
Concert prices :
« 5 concerts subscription »
Full price : € 120,00
Members : € 90,00
Excluding subscription
Full price : € 30,00
Members : € 22,00
Ticket for The Simianais : € 10,00 for one concert of your choice
Under 18, students, unemployed : € 10,00
Free for children under 12
Ticketing
Reservations will be made exclusively with the intermunicipal tourist office of Forcalquier Montagne de Lure, on site, by correspondance, by telephone, by internet( cash, checks, and credit card).
13 Place du Bourguet - BP 15- 04 301 FORCALQUIER Cedex.
Tel. : +33 4 84 54 95 10 or +33 4 92 75 10 02
Email : boutique@haute-provence-tourisme.com
On line ticketing : billetterie.haute-provence-tourisme.com
Opening of the « 5 concerts » subscription box office exclusively : May 15, 2023
Opening of the traditional ticket office : June 1, 2023
Opening of the ticket office for simianais : May 15, 2023 on +33 6 30 80 38 28
Château de Simiane la Rotonde : evening ticket office from 8 pm for the concert to follow (payment only by checks or cash).
Mobile line festival information, contact us : +33 6 30 80 38 28